Class, class pass or workshop purchases are non-refundable,
non-transferable and non-changeable.
ALL CLASSES ARE ALSO AVAILABLE ONLINE & IN STUDIO
Class, class pass or workshop purchases are non-refundable, non-transferable
and non-changeable.
ALL CLASSES ARE ALSO AVAILABLE ONLINE & IN STUDIO
1 DROP IN
ONLINE (ZOOM CLASS)
INTRODUCTORY OFFER (MONTHLY UNLIMITED)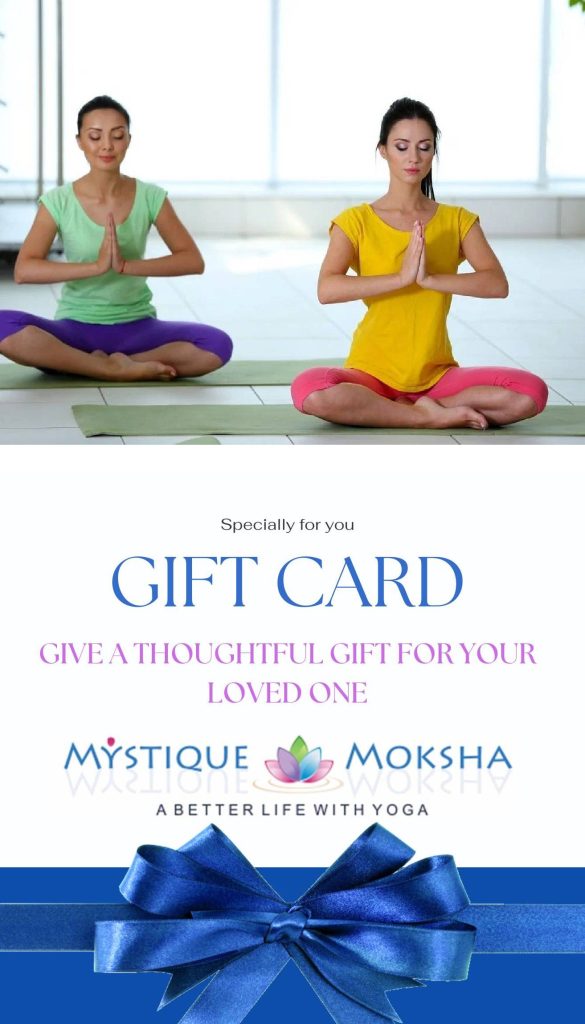 Single entry allows the student to attend a single class. If a student pre-books a class and does not attend, the class will be deducted from their purchase unless they cancel their booking 3 hours or more before the class starts. Pre-booking is not recommended if work, lifestyle or family situations could hinder the student in attending the class with certainty. We do not refund or credit classes that are missed for these reasons.These passes (Intro Pass, Drop In, 5 Class, 10 Class & 20 Class Pass) cannot be frozen and once purchased will expire after the listed time. Medical conditions take exception if informed of before hiatus
These memberships are set on auto renewal by default. Monthly members can suspend their memberships for up to 4-weeks duration each. A suspension notice needs to be given in writing via email and be sent 10 days prior to its commencement after having it for a 12-week period.Cancellation requires a two week notice through email
Email: help@mystiquemoksha.com.au
Workshops and Master Classes are often hosted by MM and have a one-time purchase that occurs when the booking for the workshop is made.For more information about a specific workshop, feel free to contact us at our email.
Mystique Moksha Liability
Students are expected to provide all relevant information regarding health and wellbeing before each of their classes, that will impact directly or indirectly with one's ability to participate in classes, workshops and retreats that are hosted by Mystique Moksha. Student should discuss any present or future concerns with the Mystique Moksha staff as they arise. Student should have consulted or will consult with healthcare physician if there is anything to be concerned about and understand that the health and wellbeing are as much the students' responsibility as it is the teachers. Students will not hold Mystique Moksha or any of their teachers responsible for what they choose to do with the information and advice given to them. They understand that classes may be physically strenuous and voluntarily participate in them with full knowledge there may be a risk of personal injury. Students agree that neither they, their heirs, their assigns or legal representatives will sue or make any other claims of any kind whatsoever against Mystique Moksha or its members, for any personal injury, property damage/loss, or wrongful death, whether caused by negligence or otherwise. Above all, students will endeavour to trust themselves, respect their body and do only what they believe is best for them.
Students are responsible to manage class passes and memberships as well as timely payment as well as understanding the duration and expiry whilst a student at Mystique Moksha.
When booking a class online, it is the student's responsibility to attend the class or forfeit the fee for any missed classes. Cancellation a pre-scheduled booking is up to 3 hours before commencement of that class and will not incur a fee. All cancellations received within and after the 3-hour cancellation period will not indemnify the student from paying for the pre-scheduled class and the fee will automatically be deducted from the existing pass or membership. Mystique Moksha reserves the right to consider exceptional circumstances on a case by case basis and in fair judgement, however, cannot guarantee a refund of fees if it is not satisfied the circumstances were, in fact, exceptional and as such preventing the student from their obligation to manage their membership and scheduling. days prior to its commencement.
The amount due in your shopping cart is inclusive of the following banking transaction fees which may apply. These costs automatically accrue to the student's shopping cart balance. By proceeding with this purchase, you understand that 'Paychoice' will appear on your bank account statement as the payment reference. Please be aware that the receipt is subject to credit-card approval. Additional fees of $5.50 may be charged for declined transactions due to insufficient funds.
We do not refund purchases of classes unless the student has sustained a disability after the date of purchase and provides a note from the appropriate medical practitioner attesting to this fact. Another reason for the refund is permanent relocation away from the area for which satisfactory written evidence needs to be supplied. In all other cases, Mystique Moksha will either give the student an opportunity to freeze their account until they are recovered or moved back into the area or allocate monies towards the next booked class.
Just fill up the form below and we'll get back to you at the earliest.
Yoga is a physical, mental and spiritual practice that originated in ancient India. The word 'yoga' originates from the Sanskrit word Yuj, meaning join, yoke, or unite. Yoga is a method of getting a balanced body and a relaxed mind. It includes the breathing activities called pranayama and the physical act of yoga stances called asanas (yoga poses). Yoga likewise incorporates contemplation, self-examination, and knowledge of yoga philosophy.
What are the advantages of yoga?
Yoga can be highly beneficial for those who practice it regularly since it makes our body flexible, powerful, conditioned, and stable. Yoga energizes the body and improves digestion and breathing as well as strengthens the heart and circulatory system. These are just some of the physical benefits of Yoga. By enabling us to concentrate on our energy and empowers confidence within our body, Yoga techniques can support spiritual growth by teaching us how to maintain a sense of calm in difficult situations and understanding compassion towards other people.  
How frequently should I practice yoga?
Many people start with 2-3 classes a week, working towards a daily routine with Yoga. In many cases, you can notice significant differences in your body just after a week of regular yoga practice. If possible, start with two to three sessions a week and work out a plan with your teacher on how to build it into your daily routine.
I have a health condition. Can I do yoga?
Numerous individuals practice yoga as an approach to dealing with their health concerns. There are a variety of yoga classes and asanas to address and work with various physical conditions. However, it is always a good idea consult a physiotherapist or yoga trainer to explain your health concerns and see how to best move forward.
Hatha yoga is the most common type of yoga people do in the western world today. Hatha places special emphasis on slow, measured movements and mindfulness. Generally, the term hatha yoga is used for any type of yoga that combines poses (asanas) with controlled breathing (pranayama). The Yogi usually holds a pause for several breaths.


Hatha yoga is an exercise that uses breathing techniques and physical postures to develop a better connection between the mind, body and spirit. The word HATHA itself is made up of 2 words: "HA" meaning sun and "THA" meaning moon. The sun is the positive current in our body and the moon is the negative current. Hatha is the balance between the negative and positive.
Practised for over 4000 years, yoga is a collection of different slow and fast exercise routines and numerous poses (asanas). In this article, we will focus on 5 well-known yoga poses:






Class photographs used in this website are for illustration purposes only. They should not be used as a guide to any Yoga pose or asana.